Assisting Divorces Throughout Suffolk County
20+ Years of Unparalleled Divorce Representation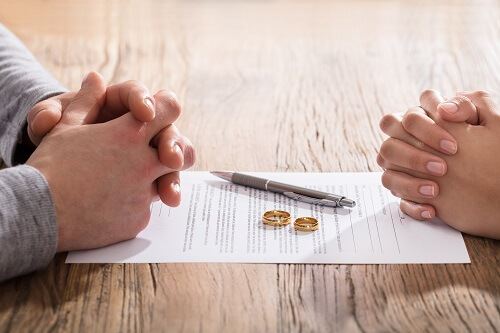 If you are seeking to file for divorce, or find yourself already in the midst of the complex process, you deserve personalized attention from knowledgeable and experienced attorneys who care. At The Law Office of Robert H. Montefusco, we treat your divorce case as if it were our own. We have more than two decades of helping others find peace after divorce.
Our Suffolk County divorce attorneys can compassionately guide you through the entire divorce process, helping you find the legal solutions for your divorce that can get your life back on track. When you entrust your case to us, you will gain a clear understanding of your legal rights in divorce, and benefit from our aggressive legal representation.
Call (631) 801-0007 now to speak with one of our skilled and knowledgeable family lawyers who will help you get the best outcome for your situation. Serving Islip and Brookhaven.
What Are the Grounds for Divorce in New York?
New York has a residency requirement, which means that you or your spouse must have been living in the state continuously for at least two years before you can begin the divorce process or are residents of the state on the day that the divorce is initiated. The grounds for divorce may be based on the following reasons:
Abandonment
Adultery
Imprisonment
Cruel and inhumane treatment
Divorce follows a formal legal separation agreement
Divorce follows a judgment of separation
The marriage is "irretrievably broken" and has been so for at least 6 months
As your situation may have unique circumstances, please do not hesitate to speak with our divorce lawyers at Law Office of Rober t H. Montefusco, P.C. for further assistance. We can discuss the laws and the specifics in relation to your case.
Handling All Divorce Matters in Suffolk County, NY
Divorce can make an impact on multiple areas in your life. For years our divorce lawyers have been committed to gaining the necessary knowledge and skills to be able to best help people navigate through all kinds of divorce-related issues.
We handle all matters that arise during divorce disputes including:
How Long Does It Take to Finalize a Divorce?
If you have an uncontested divorce, the entire process may be finished within two to three months. However, it can take up to a year or even more, depending on your situation. Additionally, you must factor in the time it takes to compile all of the necessary documents, as well as the court's own timeline for scheduling. Remember that there are also residency requirements necessary before you can file. You or your spouse must have been a resident of New York State for at least one year, uninterrupted, prior to filing.
How Will I Know that the Courts Have Finalized My Divorce?
The courts will typically issue the Judgment of Divorce. The judge has already considered all of the terms of your divorce and has found that all of the matters have been settled. An uncontested divorce between spouses who generally agree to the terms of the divorce may be able to settle their divorce faster than spouses who have several, contested issues to handle. The timeline of this will vary, of course, depending on your circumstances. After the judge has granted the divorce divorce and it has been finalized, it will then be filed with the court. Each spouse should then expect to receive copies of the divorce decree.
Contact Law Office of Robert H. Montefusco, P.C. for Assistance
We will not back down and we will fight for you. We will do whatever it takes to help you get the best possible outcome for you so that you can move on with your life in pursuit of your best future. Though divorce can be a complicated and painful process, our attorneys make the experience as easy as possible and will be with you every step of the way.
For more information about how our Suffolk County lawyers can assist you through your divorce, call us today at (631) 801-0007 or contact us online. We look forward to hearing your story.